Hinge micro switch


Safety system featuring a microswitch fitted directly to the hinges on leaf doors. This system is easy to install, very sensitive and safe – and its position means it is protected from accidental impact damage.
Cable duct support


This product anchors the cable duct directly to the upright of the Basic and Strong ranges, without the need for special brackets. The system offers:
• Fast insert into the upright.
• Anchoring to the cable duct with screws of standard brackets supplied with cable ducts.
Universal brackets for micro switches


Satech has designed and produced a universal supporting system for safety microswitches which allow easy and fast assembly of the most common safety microswitches to all standard doors. This avoids the cost of adjusting the supports to fit models from other manufacturers.
Support struts



In case of horizontal dynamic loads due to large doors or complex protection system layout, the uprights of the Basic and Strong Series can be stiffened by support struts to provide convenient and effective stabilisation.
Doors with microswitches


Where there is a requirement to take samples on line, e.g. for statistical control purposes, Satech offers built-in openings in standard panels, allowing a simple and totally safe operation. Design is based on Satech's tried and tested standard systems, thereby assuring safety and easy operation. 400x400 and 600x600 are available.
Kick plate



The specially shaped kick plate provides for extremely fast and stable assembly of each module and panel type of Satech's protection modular systems. The robust structure prevents the outlet (or inlet) of potentially dangerous materials through the usually free space between panel and floor.
Cutting kit



These systems provide for quick and easy adaptation of Satech's standard panels in unforeseen assembly situations; also to allow for re-configuration of the layout that may be required in the future.
Adjustable baseplates and shims

These two accessories are the solution to sloping or uneven floors. They allow easy adjustment of the uprights to cater for varying requirements – e.g. when the system is installed on a floor which has an inbuilt incline to facilitate the collection of liquids.
Variable angle joint


This accessory is used during installation when the angle between panels and uprights varies from 90°.
Reinforced linear joint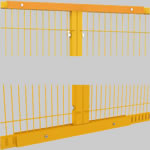 This practical and speedily-installed accessory gives improved horizontal rigidity when joining two panels without the provision of the upright.